Be sure to visit our on-line order pages
CLICK HERE TO VISIT OUR FAQ PAGE
Just one of our many handcrafted styles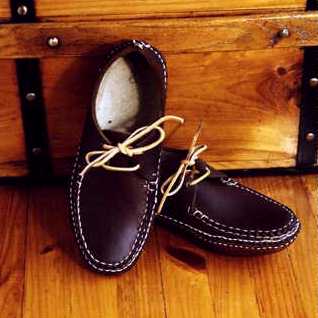 for you to choose from.
Arrow Moccasin Company has offered the finest quality for over forty-five years. We are a small family owned and oriented business established in 1951. Ron Ouellette [ pronounced "wool-let" ] was employed in 1951 as a bootmaker for "Old Sturbridge Village" of Sturbridge, Massachusetts. With over forty-five years of experience, Ron says:

"I was making moccasins then, as I am now.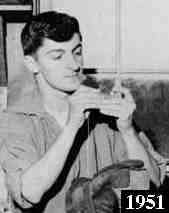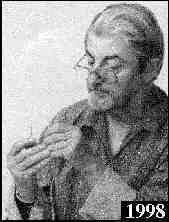 I'm a bit older, but still not too old to make you a pair."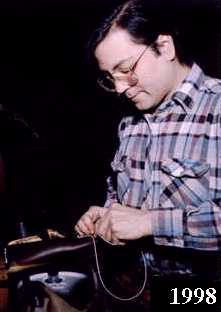 Son, Paul carries on the Family tradition
of Arrow Moccasin's attention to quality
We pledge to make each pair of moccasins with the exact same handmade standards that we have perfected during our 45 years in business. Each moccasin and boot will receive the same painstaking individual attention that has made ARROW MOCCASIN an award winning company, known for our uncompromising standards and workmanship.
Moccasins from ARROW MOCCASIN are simply the absolute best quality available. We have a family work ethic that is reflected in the craftsmanship of our every task, as well as our 6 to 7 day work week.
This same ethic is reflected in our prices. Our prices are 20 to 40 percent below that of our competitor's. We take a great deal of pride in our work and in knowing the pleasure and satisfaction that our customers have when they walk in a pair of moccasins made by our hands.
Our moccasins are made of extra heavy, quality, Swiss hides that are tanned in England, the same country that produces the best of bridle leathers. A special tanning process is used by a small, family owned tannery, that no one in the world has been able to duplicate. The fibers of the leather are tightly joined in the process, yet are pliable enough to allow the leather to mold to your feet and breathe.
That is why Arrow Moccasins will outlast all others. For every pair is completely handmade and sewn with a knot in every stitch and we guarantee the stitching for the life of the moccasin.
Each pair of footwear comes with a COMPLETE SATISFACTION GUARANTEE or we will refund 100% of your money. When you receive your personally made pair of moccasins, if you are not satisfied for any reason, we will refund your money with no questions asked.*
* Refund is offered on any pair of boots or moccasins that have not been worn.
If you have ever worn a pair of Arrow Moccasins, you already know about the quality of our product. And for those of you who haven't, buy a pair and you'll never regret it!
THE OUELLETTE FAMILY, RON, PAUL, MRS. OUELLETTE

COMMENTS FROM THE EXPERTS
" My first pair went to the Himalayas in 1983. I started buying them from 'Baldy' on the Kancamangus in New Hampshire. I also wore them for 13 years to work in the McLaughlin Gardens of South Paris. I haven't worn anything else in almost 30 years."
Richard Tribou McLaughlin, Greenwood, Maine
"Our winter trek in Wisconsin's Nicolet National Forest over frozen ground was a totally comfortable experience in our French Canadian boots. My feet were always warm and dry and walking was so comfortable through the snow. Your boots are the greatest for winter trekking. Thank you."

L. Ellis, Madison, Wisconsin
"I have always made my own moccasins, that is, until I wore a pair of ARROW MOCCASINS. Not only are they quiet, they look great and hold up better than any other shoe I have worn. They mold to your feet and let you feel the ground which is essential in tracking. The quality is the best that I have ever seen. The traditional look and durability that these moccasins have, deserve much respect. They are cheaper and are of better quality than any other moccasin made. ARROW MOCCASINS are the best moccasins around anywhere."
Justin "Two Turtles" Kram, Bel Air, Maryland
"Enclosed are a pair of moccasins in need of resoling. I have worn them daily for 5 years working on the farm and on all my trekking expeditions. I have worn out 3 pairs of your competitor's double sole moccasins before I discovered your company. Your moccasins are far superior in wear and comfort, as well as much less expensive."
Eldridge C., Des Moine, Iowa
"I just received my Soulier de Boeufs and I am writing to tell you that I am absolutely delighted with them. They fit my feet as if you had fitted them personally. The leather quality is unsurpassed and I speak as someone who was in the shoe business for many years. I fully expect to be wearing these for many years."
Walter M. Given, IV, Charleston, West Virginia
Treffle Bolduc of Conway, New Hampshire, one of America's top snowshoe makers*, had this to say about our Mukluk Sport Boot:

"the Best I have ever worn." "the warmest, lightest and most comfortable of all winter footwear. Unexcelled for snowshoe use."

* People Magazine, February 1985
* Esquire Magazine, May 1985

"I've worn your moccasins everyday for the last 19 years, summer through winter, rain or shine,or snow. Minus 30 deg to 100 plus. I have three pair; one for everyday, one for church, and my shearling lined winter mocs. The shearling lined ones were purchased 2 winters ago, replacing the 16 year old pair, 'cause they were looking a bit "ratty" I kept the old pair for when it's real muddy! Please keep up the good work, because I don't think I could stand wearing anything else!"
Bob Miller, Sharbot Lake, Ontario, Canada
"I just wanted to say thanks for the wonderful Soulier de Boeuf mocs I wear on my Historical Trekking Hikes. I just finished one to the top of East Osceola (White Mountains, elev. 4156, 5.6 mi round trip) and they are TERRIFIC! The soles are holding up superbly without a tear and they are as comfortable as heck. They kept my feet dry despite the high heat and water crossings. I have attached a photo of myself with them on while trekking that my wife took. I have received so many inquiries about who made them while I'm trekking. The Ouellette's make such a quality product. These really are the most comfortable footwear my feet have ever had on. When I wear my regular hiking boots, that hard sole makes one's heels sore after awhile, but I have never, ever, ever had any pain at all with the Soulier de Boeuf's, and that's what I tell everyone I meet. Their feel and traction are supreme, all the while your feet feel like they are one with the trail. Truly remarkable!"
Scott Lang, West Lawn, Pennsylvania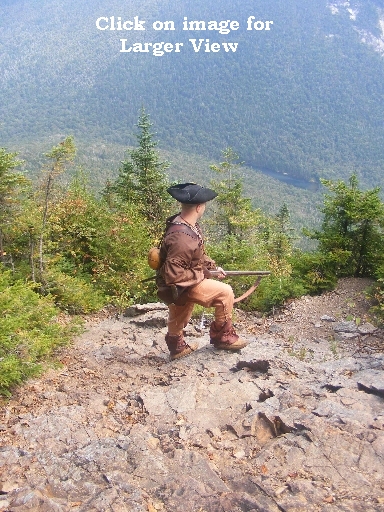 CLICK HERE TO SEE OUR HANDCRAFTED MOCCASINS
CLICK HERE TO VISIT OUR LINKS PAGE
CLICK HERE TO VISIT OUR FAQ PAGE

ARROW MOCCASINS © 1997,
http://www.arrowmoc.com
P.O.Box 699, Hudson, Massachusetts 01749
TEL. [978] 562-7870, FAX [978] 562-1286